E-Scrap 2016
Post-Conference Proceedings
Proceedings Webpage Sponsored By:
The 2017 conference will be held September 18- 20 at the Omni Resort at Championsgate in Orlando, Florida. Information for the 2017 conference will be available on our website soon. We hope to see you again next year!
Post-Conference Survey
Please answer several short questions about your experience at the conference. Your responses will help us make your next conference even more pleasant and productive.
E-Scrap 2016 Attendee Lists
The list includes information for all registered attendees, including Name, Title, Company, Address and Phone Number. As a company policy we do not include email addresses for our attendees. We do not release the list in any other format besides pdf.
Speaker Presentations
Please click the links below to access the presentations in pdf format. Those sessions without links were held as panel discussions and did not have powerpoint presentations associated.
PLENARY SESSION I: INSIDE THE MATERIAL WORLD
– Moderator: Jeff Sacre, CHWMEG
– Billy Johnson, ISRI
– Adam Dumes, Cohen Electronics
– Steve Skurnac, Sims Recycling Solutions
– Craig Boswell, HOBI International
PLENARY SESSION II: CONNECTIONS ACROSS CONTINENTS
–Moderator: Kelley Keogh, Greeneye Partners
– Jim Puckett, BAN
– Verena Radulovic, U.S. Environmental Protection Agency
– Kees Balde, United Nations University
CONCURRENT SESSION A: DECONSTRUCTING DESIGN
– Moderator: Karen Pollard, U.S. Environmental Protection Agency
– Carole Mars, The Sustainability Consortium
– Kyle Wiens, iFixit
– Miles Harter, Dynamic Recycling
– Beth Johnson, Dell
CONCURRENT SESSION B: E-SCRAP ACADEMY TRACK: LET'S MAKE A DEAL
– Moderator: Dan Leif, E-Scrap News
– Ryan Schultz, Caretta
– Serdar Bankaci, Commonwealth Computer Recycling
– Joe Connors, Commonwealth Computer Recycling
CONCURRENT SESSION C: OEMS OPEN UP
– Moderator: Walter Alcorn, Consumer Technology Association
– Doug Smith, Sony
– Caitlin Sanchez, Vizio
– David Thompson, Panasonic
– Beth Johnson, Dell
CONCURRENT SESSION D: E-SCRAP ACADEMY TRACK: RISING REVENUES IN REUSE AND REPAIR
– Moderator: Kyle Wiens, iFixit
– Willie Cade, PC Rebuilders & Recyclers
– Tyler Shegerian, Electronic Recyclers International
– Joe Morrow, Belmont Trading
PLENARY SESSION III: THE STATE OF STATE PROGRAMS
– Moderator: Jason Linnell, National Center for Electronics Recycling
– Chris Ross, Pennsylvania House of Representatives
– Garth Hickle, Minnesota Pollution Control Agency
– Jeff Bednar, Pennsylvania Department of Environmental Protection
– Resa Dimino, Product Stewardship Institute
– Marcy McGrath, Wisconsin Department of Natural Resources
CONCURRENT SESSION E: GLASS PROBLEMS ON DISPLAY
– Moderator: Jeff Gloyd, URT Solutions
– Joe Kakesh, Wiley-Rein LLP
– Tracy Atagi, U.S. Environmental Protection Agency
– Dylan de Thomas, E-Scrap News
CONCURRENT SESSION F: E-SCRAP ACADEMY TRACK: RUNNING FACILITIES RIGHT
– Moderator: Eric Harris
– Rafael Reveles, Sims Recycling Solutions
– Diana Ceballos, Harvard School of Public Health
– Thomas Vetsch, Immark AG
– Lloyd Andrew, Envirosh
PLENARY SESSION IV: ON THE TRAIL OF USED ELECTRONICS
– Session Chair: Teri Richardson, U.S. Environmental Protection Agency
– Moderator: Coleen Northeim, RTI International
– Endalkachew Sahle-Demessie, U.S. Environmental Protection Agency
– Jeffrey Petrusa, RTI International
– John Glaser, U.S. Environmental Protection Agency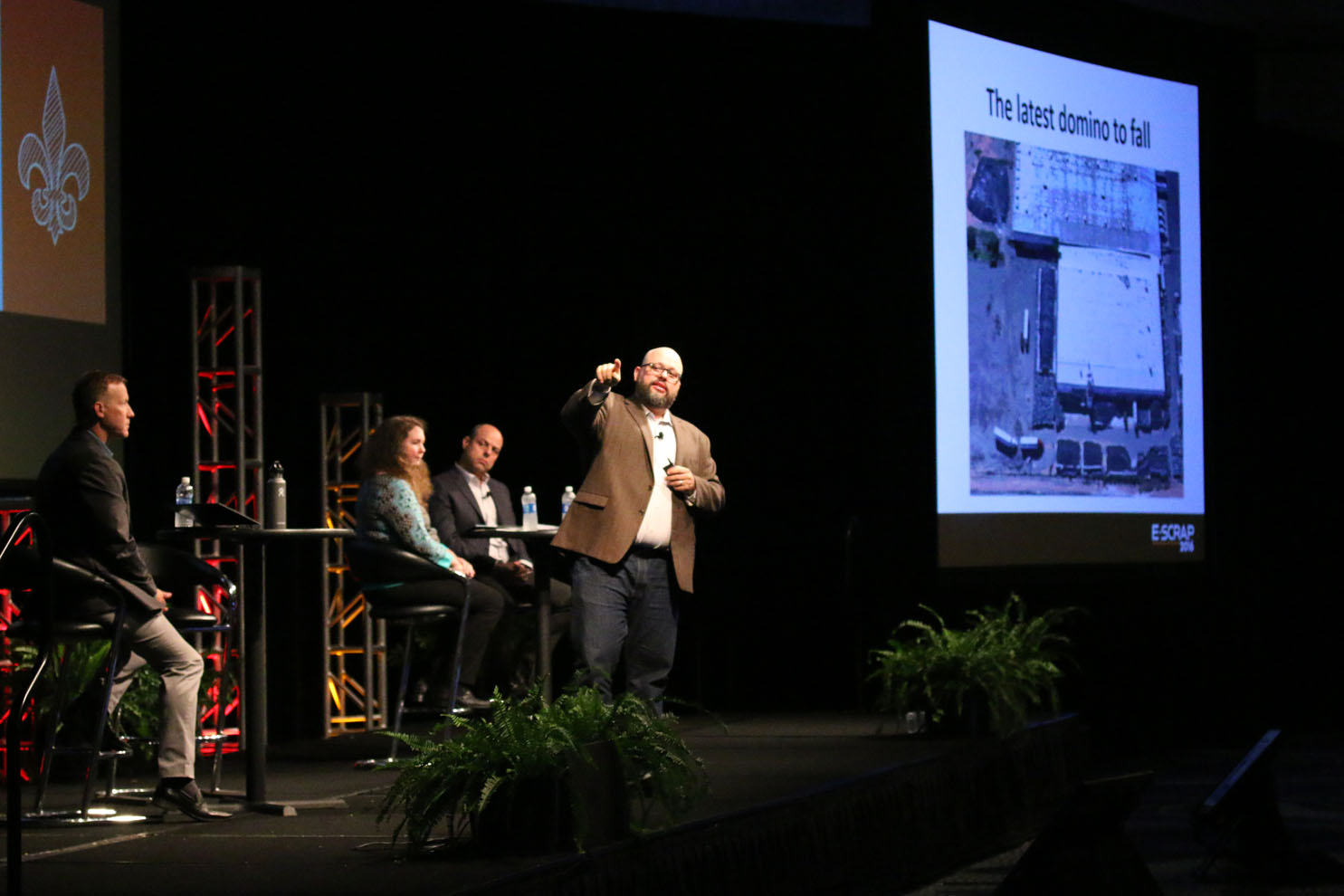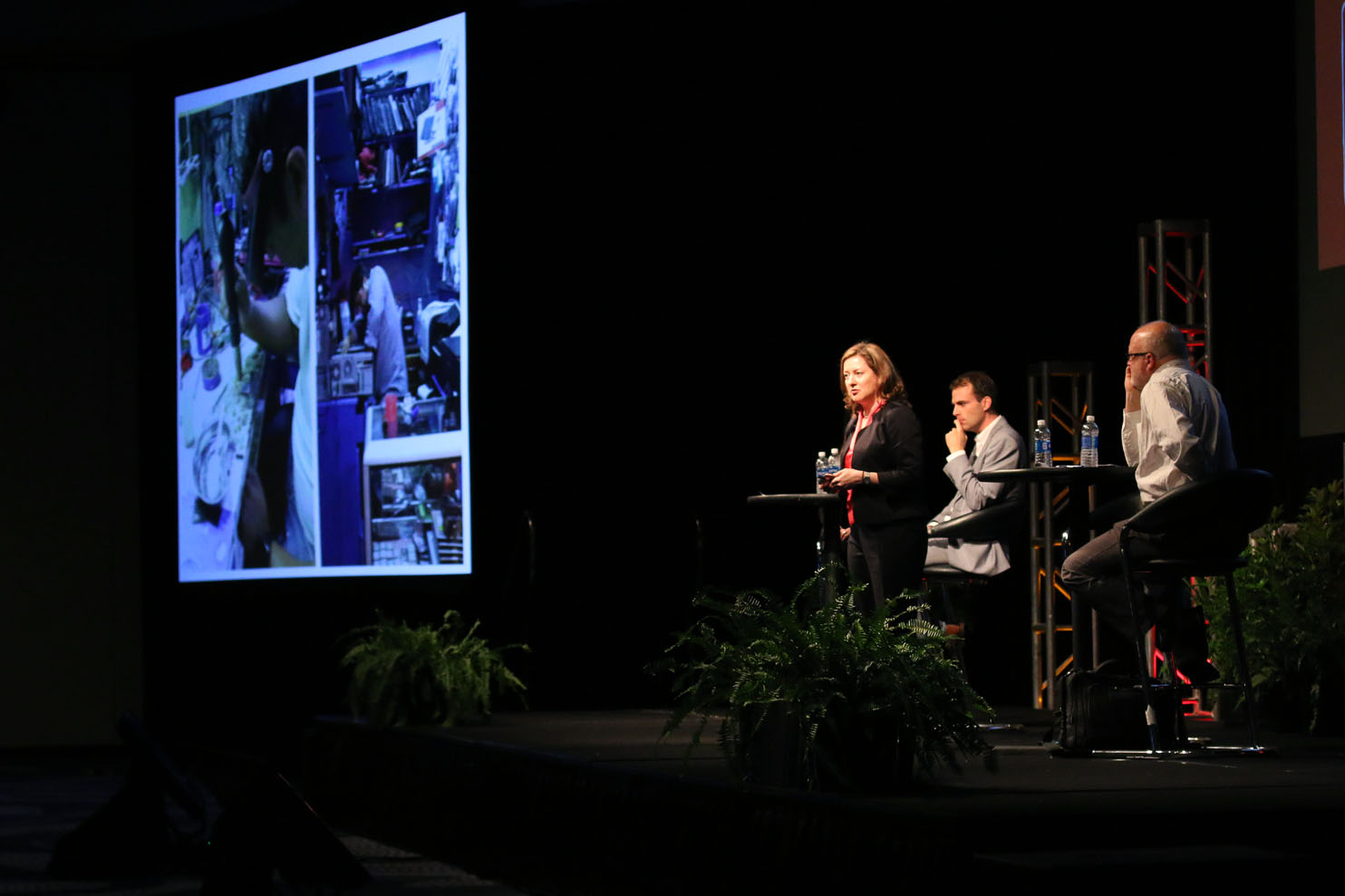 2016 SPONSORS AND EXHIBITORS